Filter by Subcategory
Afterschool Programs
Online Registration Unavailable
High School Sailing Team

Next session starts Apr 13, 2020 at 4 pm

, runs for 8 weeks
1 additional session on Sep 14, 2020
COURSE DESCRIPTION: Learn to sail, race and gain the skills to compete at local, regional or even national level regattas. SUNY Maritime College provides everything needed to participate including sailboats (420s, FJs and Keelboats), coaches, safety boats, and life jackets at one of the best waterfront facilities in the country.  High School Sailing is co-ed and open to both individuals and teams. Sailors from multiple schools will be combined based on skill level, have an opportunity to sail with different partners, and may attend regattas as part of a composite team.
WHAT TO EXPECT: High School Sailing is run like an after-school sport. Monday and Friday practices are run by coaches and waterfront staff and consist of briefings, drills, games and racing on the water. Primarily, practice is sailed in dinghies (420s and FJs) and is complemented by keelboats (J105, J44, Figaro, IC24s) and catamarans (Hobie Waves.) Sailors of all abilities come from different schools to practice together. With a low coach-to-sailor ratio, all participants will develop their skills and take their sailing to a higher level. 
SKILL LEVEL: All skill levels
AGES: 9th-12th grade
PACKING LIST: Please click here for required and recommended gear list - High School Sailing Gear and Packing List
DIRECTIONS: High School Sailing meets in the East Bay of McMurray Hall. Please click here for directions.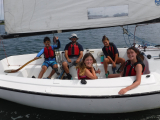 Online Registration Unavailable
After School Adventure Sailing

Next session starts Sep 14, 2020 at 4 pm

, runs for 6 weeks
An exciting new program for Fall 2019!
Beat the back to school blues and keep the summer fun going through the fall in After School Adventure Sailing!
6th-8th graders enjoy recreation and instruction aboard a variety of boats - dinghies, catamarans and keelboats. 
No experience required! Open to beginners, intermediate and advanced sailors.
Join with summer friends or come alone and meet new people. Participants will learn seamanship and sailing skills, explore the East River, and enjoy warm water and great wind - fall is the best time to sail!
For a packing list, please click here: What to Bring to After School Adventure Sailing
DIRECTIONS: Adventure Sailing meets in the East Bay of McMurray Hall. Please click here for directions.
Online Registration Unavailable
Volunteer - Billion Oyster Project

Next session starts at 5 pm

, runs for 11 weeks
2 additional sessions
Become a Billion Oyster Project Volunteer at SUNY Maritime College and you will be part of a movement to re-establish oysters in the East River and help restore our local waters!
Volunteers meet weekly to work as part of a team to collect data and help maintain Oyster Restoration Stations. Tasks include: assessing site conditions, monitoring weather, water quality testing, measuring oysters, monitoring co-habitating organisms, and settlement ecosystems. Data is collected and shared with dozens of additional Oyster Restoration Stations around New York Harbor.
Ages: High school through Adult
Eligibility: Individuals and groups welcome. Get ready to get your hands dirty and your feet wet!
More info: Contact the Waterfront at (718) 409-2447 or waterfront@sunymaritime.edu